| | | | |
| --- | --- | --- | --- |
| Team Aruba Tops XPS Field, Earns First Event #1 Qualifying Spot | | | |
Sunday, 14 April 2013 11:27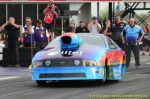 A strong list of entrants pulled into South Georgia Motorsports Park for the ADRL Georgia Drags VII. Former champions, notable top ten competitors and rising stars were all vying for the number one qualifying spot in Extreme Pro Stock.
Team Aruba was among these competitors and quickly set the pace for the weekend. In their first run down the track Trevor Eman and team took their Jerry Haas Mustang, powered by Jon Kaase Engines, to the number one spot with a 4.063 at 177.44MPH. That number was good enough to keep them on top throughout all three rounds of qualifying. Rightfully proud of their accomplishments, Trevor Eman is elated going into Sunday's eliminations:
"This is a huge milestone for us," told the Aruban native. "For all the years we've been racing, to finally achieve a number one is incredible. Hopefully, we can carry it through into eliminations."
At their first event of the season, the Aruba.com/Alltel Wireless Mustang made it to the semifinals. Building upon that consistency with the pole position this weekend, Team Aruba has a new found confidence.
"We have a great team," Eman added. "I couldn't be happier with our progress, and I'm looking forward to where we'll go from here. It's a good weekend for Aruba in many ways, because my cousin, Anouk Eman, just won Gold in the U.S. National Synchronized Swimming Championship in Greensboro, N.C. We're extremely proud of her and send huge congratulations her way! Hopefully this good fortune for Aruban sports continues."
Team Aruba will face off against number 16 qualifier, Scott Hintz in round one. Get round by round results from Team Aruba by following them on Facebook and Twitter.
For information on booking your Aruba vacation visit www.Aruba.com and www.Destination-Magazines.com.
Visit www.AlltelWireless.com for their latest deals.
Comments
(0)

Write comment