| | | | |
| --- | --- | --- | --- |
| Diamonds International send three lucky Arubians on a trip of a lifetime | | | |
Wednesday, 04 December 2013 09:44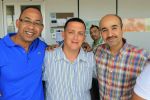 Last month three Diamonds International employees, Jesse, Theo and Peter embarked on a trip of a lifetime to Namibia, Africa. Rewarded for their hard work and focus with the company's bestselling brand the Crown of Light Diamond. Diamonds International sent them to join 17 colleagues from other islands on an all expenses paid 5-Star trip.
Starting with an epic journey across the Atlantic, taking the travelers on pit stops that included New York, Amsterdam and Johannesburg, they reached their destination in Namibia, only to be whisked away on a private plane destined for the DeBeers owned Oranjemund Diamond Mine. Here they experienced firsthand where diamonds come from and how they are extracted from the ground. This was followed the next day by a trip to the country's capital Windhoek, to visit DeBeers Namibia. The team were left in awe by the Diamond Sorting area, where tables upon tables stretched out before them covered with rough diamond stones. They completed their day with a visit to the cutting factory, where skilled workers turn rough stones into the stunning Crown of Light diamond. Diamonds International's facility employs from the town of Windhoek and surrounding villages, training Namibians to become skilled diamond cutters, mappers and polishers and forging careers and new opportunities for the local community. Trip-winner Theo commented ". I was fascinated at how it takes a whole village to cut one Crown of Light diamond, giving the Crown of Light a new meaning and value. I feel even more inspired and compelled to support the Crown of Light brand knowing how each diamond sale gives back to those people in Namibia"
The following days the group experienced the awesome and unique attractions of Wild Africa, journeying to Sossusvlei where they scaled the Namib Dunes and to the Erindi Game Reserve to complete their big African Adventure with a wildlife safari, "It was so incredible seeing the animal kingdom in its raw form. Experiencing a lion up close and seeing how a crocodile caught its prey, only to have it snatched the next second by a group of hyenas" spoke Theo. After an exciting day animal spotting on the plains the group checked into a five-star lodge with a restaurant and deck that overlooks a watering-hole, frequented by the all the animals of the reserve, dining with their fellow colleagues as they watched elephants, giraffe, zebra and rhino approach the pool for a drink.
The final stage of this amazing journey was a heartfelt and humbling visit to Diamonds International sponsored orphanage Baby Haven. This child care facility welcomes orphaned infants and children who have been diagnosed with HIV. The facility was created to support the children's basic needs as well as bringing the human touch with new toys and games. In this way, the innocent little ones of Namibia are given a chance to thrive, and once again, to be carefree children.
And this year the children were in for a big surprise, the week prior to the trip   all the employees from Diamonds International Aruba donated new clothes and toys stuffing an oversize suitcase full of gifts.
Comments
(0)

Write comment