| | | | |
| --- | --- | --- | --- |
| Spanish debt sale lifts euro, German bonds ease | | | |
Thursday, 17 January 2013 10:35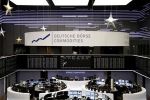 The euro jumped against the dollar and yen on Thursday and safe-haven German bond prices fell as signs of strong demand at a Spanish debt auction lifted sentiment toward riskier assets.
Oil prices also gained, though partly from concerns about supplies being affected by the upsurge in military activity in Algeria and Mali.
World shares, which have largely drifted sideways this week, edged up 0.1 percent, while Wall Street was expected to open higher ahead of a busy day of corporate earnings and economic data.
A larger-than-expected drop in U.S. jobless claims and better-than-forecast rise in housing starts provided a welcome early boost for investors looking for further evidence the world's largest economy is regaining momentum.
In Europe the main focus was on Spain's success in selling 4.5 billion euros ($6 billion) of new bonds at a lower cost than in the previous auction, signaling growing confidence among investors in the outlook for the recession-hit euro area.
"It is a reflection of strong liquidity and improved sentiment towards (euro zone) peripherals," said Alan McQuaid, chief economist at Merrion Stockbrokers in Dublin.
Confidence in the euro zone has risen since European Central Bank President Mario Draghi made upbeat comments on the rebound of financial markets last week, after promising in 2012 to support the debt of any struggling country in the currency bloc that was willing to reform its economy.
"Overseas investors are returning back to the peripheral bond markets, including from the U.S., because of the ECB backstop for peripherals," Nick Stamenkovic, Fixed Income Strategist, RIA Capital Markets.
Accommodative monetary policies from the world's major central banks and signs that the growth in the U.S. and Chinese economies is picking up have also supported investment flows into riskier assets and away from safe havens.
German Bund futures fell as much as 66 ticks to 142.72 after the Spanish debt auction, while, as prices fell on cash bonds, 10-year German yields rose to 1.546 percent..
Spanish 10-year yields were steady at 5.072 percent, with equivalent Italian yields 5 bps down at 4.152 percent.
LOST IN TRANSLATION
The euro hit a high of $1.3363 against the dollar for a gain of 0.6 percent after the debt sale, fading back only slightly afterwards.
The common currency was also up 1 percent against the yen at 118.75 yen, which is not far from the 20-month peak of 120.13 hit on Monday.
The euro and the dollar were already higher against the yen on Thursday after Japanese Economy Minister Akira Amari was quoted as saying his recent comments on the negative impact of a weak yen had been misinterpreted.
The yen has been falling ahead of a Bank of Japan meeting next week when policymakers are widely expected to adopt a 2 percent inflation target and perhaps extend the current asset purchase program.
"He (Amari) reversed his earlier comments today and markets added new short yen positions," said Arne Lohmann Rasmussen, head of FX research at Danske Bank, adding that the Spanish bond auction "certainly helped the euro".
SHARES CAUTIOUS
In the equity markets, a massive $14 billion writedown at global mining giant Rio Tinto and fears that weak growth in the fourth quarter of 2012 will result in poor corporate results was keeping price gains in check.
The FTSEurofirst 300 index .FTEU3 of top European shares recovered from an early slip to stand 0.4 percent higher at 1,164 points ahead of the U.S. open. London's FTSE 100 .FTSE, Paris's CAC-40 .FCHI and Frankfurt's DAX .GDAXI were up between 0.3 to 0.6 percent.
The MSCI world equity index .MIWD00000PUS was creeping back towards its recent 18-month high. Asian shares outside Japan .MIAPJ0000PUS fell 0.2 percent, extending declines for a third session however.
The falls were led by Chinese stocks as investors retreated ahead a slew of economic data due on Friday including fourth-quarter GDP, December industrial output, retail sales and house prices.
Oil prices, which are under pressure from the prospects of weaker demand in 2013, gained support from concerns about supplies being affected by military activity in Algeria and Mali.
Islamist fighters seized dozens of Western and Algerian hostages in a dawn raid on a natural gas facility deep in the Sahara on Wednesday and demanded France halt a new offensive against rebels in neighbouring Mali.
Brent added 0.5 percent to $110.31 a barrel, and U.S. oil was up 54 cents to $94.77.
Comments
(0)

Write comment