| | | | |
| --- | --- | --- | --- |
| Welcome cocktail img fashion new york y aruba in style fashion group | | | |
Monday, 27 August 2012 14:22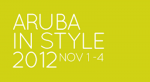 On friday august 24th, one of the  proud sponsor of ARUBA IN STYLE 2012, Pure Beach was honored to host the management and production executive staff of IMG Fashion New York, who were in Aruba to finalize the schedule and exotic venues to be part of  2nd season of ARUBA IN STYLE Fashion & Lifestyle event.
Guests included ATA director Ronella Tjin A Sjoe, ATA staff,  mrs. Myrna Jansen , airline executives, young professionals and all prominent local press, who ejnoyed Skinny Martini's , Fashion Caipirocah  served by Absolute Fashion Vodka and Red Diamond wines with esquisite canapes by Pure Beach Lounge Divi ARUBA IN STYLE 2011 produced in association with the Aruba Tourism Authority and IMG Fashion NY, ARUBA IN STYLE presented some of the world's leading fashion talent here in Aruba during 2011. Custo Barcelona, DiNeila Brazil, ISSA London, Aqua di Lara (Canada), Marcelo Quadros (Brazil), Beach Bunny, and many more from Holland and Latin America showed during AIS2011.
World known Socialite, Kathy Hilton, launched her cocktail collection during ARUBA IN STYLE 2011 and garnered impressive press coverage. ARUBA IN STYLE will kick off on November 1st ,with a stylish Fashion & Cocktail's Night Out at Renaissance Mall with special incentives at the participating designer's boutiques . This will be followed by three (3)days of exclusive runway shows featuring international designers, elegant beach side cocktail parties and absolute fashion swim / resort shows that highlights Aruba's chic -island attributes. An impressive line-up will be presented in this year's schedule...Be pending for all updates, and confirmations  in local media, arubainstyle.com, Facebook, twitter and YouTube.
Comments
(0)

Write comment