| | | | |
| --- | --- | --- | --- |
| Police chase ends in accident | | | |
Friday, 05 April 2013 12:55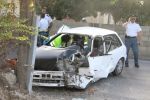 Thursday afternoon suspects trying to flee from police caused an accident on the Mahuma/Santa Marta/Sero Biento road, when they lost control and collided with their car in a streetlight post.
Police immediately detained the passenger, while firefighters had to cut open the car to get the injured driver out. Both suspects were transported to the hospital by ambulance.
During the chase a police car also slipped in the sharp turn and collided with a cement fence. The accidents caused by oil that had spilled on the road. The chase had started in the area of Hooiberg when police gave the chauffeur clear signals to stop and he refused to follow police's orders.
Comments
(0)

Write comment