| | | | |
| --- | --- | --- | --- |
| Decorated in collaboration with the students of the EPB Hato School Aruba Bank turns on Christmas lights at the Hato roundabout on | | | |
Friday, 06 December 2013 10:59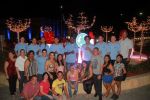 The community came together on Saturday to celebrate the grand opening of the new, modern Aruba Bank branch, located in Hato. A large group of well-wishers came together on the parking lot of the Hato branch, starting at 6pm, as the inauguration of the building attracted a huge crowd of people who wished to participate in the achievement celebration of the bank which bears the island's name.
Banda Katatumbo, DJ Nutzbeats and the Rincon Boyz supplied the musical entertainment, making sure that everyone enjoyed a Tropical Christmas evening celebrating together with Aruba Bank, before and after the lighting ceremony of the seasonal decorations, on the Hato roundabout. As a surprise, everyone present received a special "treat", as a gift from Aruba Bank!
Aruba Bank, together with the EPB Hato School, adopted the roundabout, by contributing to its construction and decoration. The roundabout definitely contributes to a safer flow of traffic on the busy Hato road, alleviating the congestion for Aruba Bank's clients, the neighbors, and in general for island residents who drive by that intersection daily.
The EPB students inaugurated the lights and Christmas decorations at the roundabout. This honor was theirs  since they helped decorating it in collaboration with Aruba Bank's employees. The team was led by local decorator Magaly Maduro and MAG Decorations.
Rocila Acosta, addressed the crowd and thanked everyone who contributed to the final product, the beautifully decorated and lit roundabound, on behalf of Aruba Bank's management. Minister Drs. Paul Croes, also present on this special occasion, also addressed the crowd and expressed his appreciation for Aruba Bank's gesture, and praised the collaboration with the students from EPB Hato school.
After lighting the roundabout, a short fireworks show followed, illuminating the night skies over the new Aruba Bank branch. It should be noted that this new branch replaces the branches in Noord and Paradera, offering all services under just one roof, more conveniently, with more parking spaces. Aruba Bank Camacuri will remain the main office of the bank, here in Aruba.
Comments
(0)

Write comment