Tuesday, 21 August 2012 08:47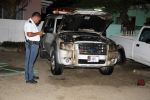 Monday around 2 a.m., reporter/photographer Nelson "Speed" Andrade was awoken by family who had noticed his car was on fire. The car had been torched in front of his house in Piedra Plat.
Despite efforts to put out the fire, it kept going until Andrade noticed a jerry can on the hood of this car and after he removed this with a  piece of wood, they finally were able to put out the fire. The battery had short circuited when gasoline got under the hood and spread the fire under the hood as well. Authorities and Nagico Insurances are investigating the intentional fire. The damage, which runs in the thousands of florin is covered by the insurance. company.
Comments
(0)

Write comment